Good Morning, Friends, Clients and Fans!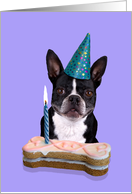 Last Sunday was my birthday and for me it marked the start of a brand new year. I've made it a habit for many years now to do my new year's resolutions at the beginning of MY personal "new year". It makes them more "mine". And I've found that I am less likely to stray from them since I'm already in the throes of my new habits by the time the calendar new year comes along and others are doing their annual tradition of back-sliding from their resolutions. I've been musing over goals for DogBreedz as well.
One of the things I'll be working on over the next few months is something that won't be obvious to my clients, but will make a difference to you: weeding out my unreliable product suppliers. It's great to find a product that is well made with less cost, but if the delivery time is stretched out all that does is increase frustration with every walk to the mail box!
Testing out new products is a must before I start offering them. Recently one of my overseas companies started offering oval stickers at a great price. I was excited about that, as I have a little thank you that I've started doing for clients to go with their orders, and the overseas price is considerably less than my US provider's price on this product - and they ship at no charge. I skipped that quality control step of testing the product (a sticker is a sticker, right?!) and started sending them out. BAD idea!
About a month and a half later I ordered one to come to my house to thank a friend who has been assisting me on the studio sets. She loved it! A week later when we met to spend time training our pooches I noticed the sticker on the back of her car - faded and peeling! In only one week! A sticker is a sticker? Nope! Mortified I quickly ordered a replacement from my regular company for her and it is displayed proudly on her car, in sturdy, colorful glory! Now it's time to go through my records and see who I sent the other stickers to, so I can replace them with the quality that people can expect when they order from me online.
That overseas company has some wonderful products - my lens cloths and lightweight fleece blankets come from them. But for my stickers - I'm sticking with my domestic provider!
What custom photo products do YOU love? Are there any that you've often thought "I wish I could find ..." Let me know in the COMMENTS section below or through my CONTACT ME email link at the top of the page - I'd love to hear from you.